The final chapter in Alicia's Adventures… Colombia!
It was a quick trip, with very limited stops through Ecuador, and now it was time to get ourselves to Colombia! Jess was starting work there and I had heard SO many amazing things about the country, that I wanted to spend as long as possible there before heading home.
We flew into Bogotá, (the capital of Colombia) had a quick sleep in a crowded hostel (Perks: We stayed in triple bunks for only AUD$8/night including a simple brekky) and set off for a walking tour in the morning. We saw the sights and learnt the history of the city, and of course we heard about the infamous Pablo Escobar and his impact on Colombia. We had stopped in Bolivar Square, to listen to the tour guide telling us about how he had created a bad perception of Colombia, and how Colombians really want to change this misconception that the rest of the world has associated with them; one of danger, drugs and corruption. Our guide was explaining all of this to us in English, when some nearby police, obviously only understanding the name, Pablo Escobar, pulled our guide aside mid-tour and tried to fine her as well as threatened to arrest her for endorsing Pablo Escobar.
I had a similar experience later on during a tour in Medellín, where the tour guide had to use a code name for him! It is clearly a very sensitive and serious issue!
As with most tours, they recommend things to see and specialty food to try, which of course I always oblige! This one was probably the weirdest (including the guinea pig in Peru). It's basically three great foods individually, that have been put together and somehow the people of Bogotá decided it worked… Well, I'm sorry but I have to disagree! Hot chocolate, cheese and buttered bread.
First you break up the cheese, then drop the chunks in the hot chocolate, wait for them to melt and then spoon them out and eat spoonsful of a weird chocolate-infused melted cheese and once the cheese is all gone and you have dunked all of your bread in the hot chocolate, you drink the remaining cheesy-bready-hot chocolate concoction! We attempted to eat/drink it the traditional way… but we ended up fishing out the cheese, trying to dry it and placing it on the bread so we could semi-enjoy cheese with bread, and a separate hot chocolate… it wasn't the most successful or delicious experience, but at least we tried!
We continued to walk the streets, amongst some really cool street art, and then took the cable car to the top of the mountain, Monserrate. There we encountered a magnificent view of the entire city, and truly understood how huge it was; we could barely see any edge of the city into the horizon.
We also visited the church, saw some markets, made a wish in the wishing well (it hasn't come true yet!), and sat on the stairs just to take it all in.
That night I said goodbye to Jess and set off alone to another big city, which is now one of my favourites; Medellín. This wasn't before a long wait in the airport at midnight while the plane was delayed! Luckily, I made friends with a Colombian who had been living in Sydney. His friend kindly picked us up from the airport and I caught a lift with them towards my hostel… Unfortunately, we didn't quite make it to my hostel, because at 2am, he got a flat tyre! Unlucky – Oh the adventures of backpacking!
There were so many beautiful things about this city that I fell in love with. One of them was Parque Arví; a huge park that you arrive to by taking a couple of short cable cars over the city, and then a long cable car ride over forest and greenery, high trees and beautiful bushes; it felt like a new world, but was somehow so close to the big city!
At the top, there were beautiful little market stalls with fresh foods, fruits, coffees (FYI Colombian coffee is AMAZING), handmade clothes and artwork, and the vibe there was just so calming and friendly amongst nature.
There are multiple walks you can choose to explore, waterfalls to see and butterflies to find. I would have spent all afternoon there if I'd had the chance. Actually, I would have revisited Parque Arví for a few days if I had the time! It's so peaceful and beautiful, it's the perfect place to just spend days wandering, reading and relaxing amongst the nature.
I had a goal though- to make it to Comuna 13 before dark. Comuna 13 is a neighbourhood in Medellín which was previously known to be a very dangerous area due to drugs, gangs and crime, and it is still not recommended to visit after dark. Recently however, the area has become less crime-stricken due to the legalisation of street art and graffiti. I was super lucky in that the day that I went to Comuna 13 there was a street graffiti festival, so I could see local artists creating their art on the walls, and was able to chat with them about it (in my broken Portuñol, of course). Their artwork was absolutely stunning and so colourful!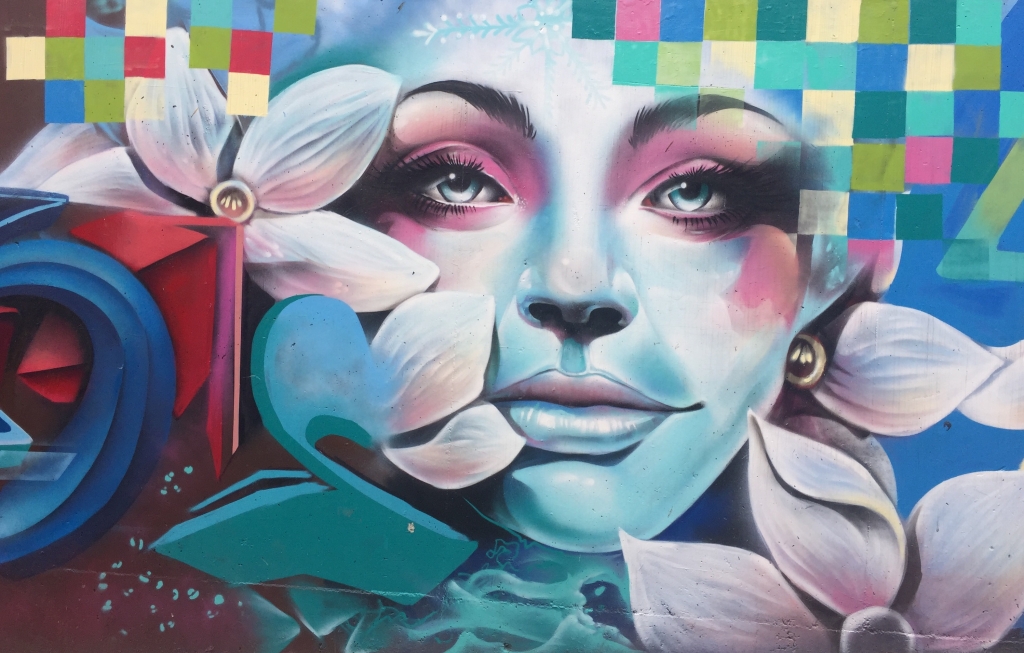 The whole community and area is lit up and so happy; it was almost unbelievable to think that this place was once notorious for its crime!
The art is of such high quality it has become a tourist attraction. So much so that they have put in escalators so that you can safely travel through the community (there are local police stationed on each corner as well) to check out the incredible displays.
About 90 minutes from Medellín is a city called Guatape, and if you're ever in Medellín, this is a MUST day trip! Or if you're ever feeling down, GO THERE!
There is no way you cannot be happy in this town! I caught a bus there and met up with a couple who I had met previously on my travels, and together we went to the famous "La Piedra" (Translation: the rock). We climbed the ~650 steps to the top (200m high), and caught the awesome view of the crazy water patterns and colour of the area below. What a spectacular sight!
All that climbing built up our appetite, so we went for lunch in to Guatape itself and I gawked in amazement and genuine glee for the next six hours while I was there. Every house was a different colour, and not a block colour like in La Boca, Buenos Aires, but each had multiple bright colours, with varying patterns and styles throughout. The doors and hanging plants were magnificent! I have never seen anything like it, and I could not have loved it more! Definitely a place that suited my personality; I couldn't wipe the smile off of my face! And to think that people actually live there and these were their actual houses; how cool!
Next stop: Cartagena; a completely touristy town on the north coast of Colombia.
Traveller's tip: Everywhere else in South America I would recommend overnight buses because they're so cheap, you save money on accommodation and they're usually very reliable and comfortable, but in Colombia the internal flights only cost about $30 and are between 60 and 90 minutes; a much better option!
In Cartagena, I was back in the heat (a lot of it!) and near the beach. Bliss! The few days I spent there consisted mainly of exploring the city by foot, lying by the pool in the hostel, and then lying in the sun on the roof, reading my kindle and just relaxing! When it came to sunset both nights, I met up with new acquaintances and watched the sun go down over the beach with a few wines, sitting on "The Wall" (The Wall is a 4km boundary that was originally put up around the city to protect from pirate attacks. I found it so strange to talk about staying inside The Wall, or going beyond The Wall, but it's a really cool part of the city's history and look). Although very touristy, I liked the city; full of colours, beautiful little boutiques, clean, laidback and had plenty of sun!
From the beach to the jungle, I went through Santa Marta and continued by Jeep to a little town called Minca, where I then had to get on a motorbike taxi to get to my hostel! It was so much fun, although I did have a moment where I wondered why the driver had a helmet on and hadn't offered me one… Sorry Mum! We continued through the jungle and arrived at Casa Elemento; a new hostel famous for having the largest hammock and hammock swing, as well as the option to sleep in semi-outdoor hammocks overnight.
I chose this option, but hadn't realised it was going to be freezing at night, so I spent the entire night layered in others' clothes and sleeping with multiple blankets! The view from the big hammock was incredible though and definitely a highlight for me.
Traveller's tip: Don't forget your Bushman Insect Repellent – I still have sand fly bite marks all over my shins!
While I was in Minca, I also visited waterfalls, a coffee plantation, hiked to see the sunrise overlooking Santa Marta, enjoyed amazing food and relaxed in the sun on the huge hammock with new friends.
It was lucky that I fit in some down-time because I certainly wasn't going to be getting any of that in Barraquilla! Late February in South America is Carnaval, and Barranquilla is a northern coastal Colombian city that hosts the second largest Carnaval celebration in the world. On our way to Carnaval, myself and a newly made friend, Joel, went to the night markets in Santa Marta and tried on every colourful hat, shirt and crazy outfit, trimmed with accessories, that you could imagine! It was one of the most hilarious evenings and by the end we had successfully bartered and found ourselves some interesting, but fitting, Carnaval outfits!
Barranquilla is a small town that has absolutely nothing and basically nobody, until it is time for Carnaval, when millions flock to the city and it's one humungous party! That means that accommodation books out super early and everyone charges at least triple the price of normal accommodation. So, finding somewhere to stay was a difficult and a little dodgy. I managed to lock in accommodation through a French guy I met in Medellín, who had used WhatsApp to find an Airbnb (but not officially) for me and an English girl, Ellie, who I had met in Peru and would be meeting up with there.
Yup, crazy and a little shady… but it's Carnaval, so "when in Rome!" Ellie and I reunited, got our colourful outfits on and met up with friends I had met in Minca to see the parades, where we accidentally became a part of them!!! I still don't know how we managed that and got away with it, but we did and the locals seemed to love the crazy gringo additions! We basically just partied on the streets until the early hours, arriving back at our accommodation at 6:30am for short a three-hour sleep… before beginning all over again in new bright and crazy outfits, and with two Welsh guys I had befriended in Cartagena! This time we bought tickets for the smaller parade, stayed on the appropriate side of the fence and then danced salsa on the streets with locals and foreigners until 7am, when we returned for an hour's sleep!
No time for rest in Barranquilla – I was (thankfully) off to Palomino, a beach town a few hours away, where all I needed to do was relax in a hammock, lie by the pool and sleep Carnaval off, like so many others were also doing.
Once I had recovered and caught up with a few friends that I had met throughout the different cities in Colombia, it was time to tackle Tayrona National Park.
I'd heard so much about this place; every person who had been there would rave about it and tell me I had to go! The only problem was that it shut for a month and didn't open until the day before I had to leave for Bogotá to begin my long journey home to Perth. There are limited entries in to the National Park each day, and once you're in, there are limited places to sleep; most being hammocks. So it's first in, best dressed! The morning that the park re-opened, I had gone to see the sunrise with a few Germans and then we headed to the park. We left in good time, but obviously not good enough. When we arrived, there were hundreds of people already lined up to get in to the park, and things were not moving! We started panicking thinking there were already too many people in front of us and that we wouldn't make the cut, so we started speaking to the local shop owners and eventually came up with a plan to leave the line and go to another less known, but legal, entrance (there are multiple illegal entries that we were also told about!) The only catch is then we had to hike three hours to get to the campsites, so by the time we got to them, we may not have any accommodation, but at least we would be in the park. It was a risk we decided to take… which paid off in terms of getting in to the park! There was not one other person lining up there when we arrived! Getting to hike through the beautiful park was amazing, but maybe not worth it, because by the time we got to the campsite, everything was booked… so we had to hike to the next spot… where everything was booked… and then the next, and the next, until there were no more and the sun was already setting! The end result was us, (with many others) sleeping on the ground under the stars, with no bedding underneath or on top of us! It was a pretty horrible, sleepless night and I'm still not sure if the next half-day of beautiful beaches was worth it! The highlight was the ceviche we ate on the way out and because we waited so long for said ceviche to be made, we were in a mad rush to get to the bus, so we hired a horse each and galloped our way out of the park!
I said goodbye to yet more friends from around the world as I went to the Santa Marta airport to fly to Bogotá, to then start my long journey home to Perth and 'back to reality'. When the plane took off from Bogotá I involuntarily started crying, until I realised that was a little embarrassing! Thankfully no one was sitting next to me on that flight! It wasn't because I didn't want to go home, but it was because I had loved every day, every adventure (okay, maybe not the night in Tayrona National Park) and every moment of my three-month trip.
I met amazing people from all over the world, made friends and memories everywhere I went, learnt so much about myself, life, history and culture, experimented eating all types of foods and tried out every adventure available.
I knew I'd miss waking up not knowing who I would meet, and where I would end up; living each day as it came. I saw so much and definitely raced around over the three months, so if I were to do it again, I would definitely do it over at least six months. I guess that means I'll just have to go back and explore it all over again!!! Not the worst idea. I can't endorse South America more as a holiday destination; it has so many different landscapes, the people and culture are beautiful, so generous and friendly, and the history of all of the countries is unbelievable and so interesting. It's certainly not as dangerous as everyone perceives (I feel more unsafe walking through Perth city at night, to be honest), and the adventures are unforgettable.
So I guess that just leaves one last question… Where to next?